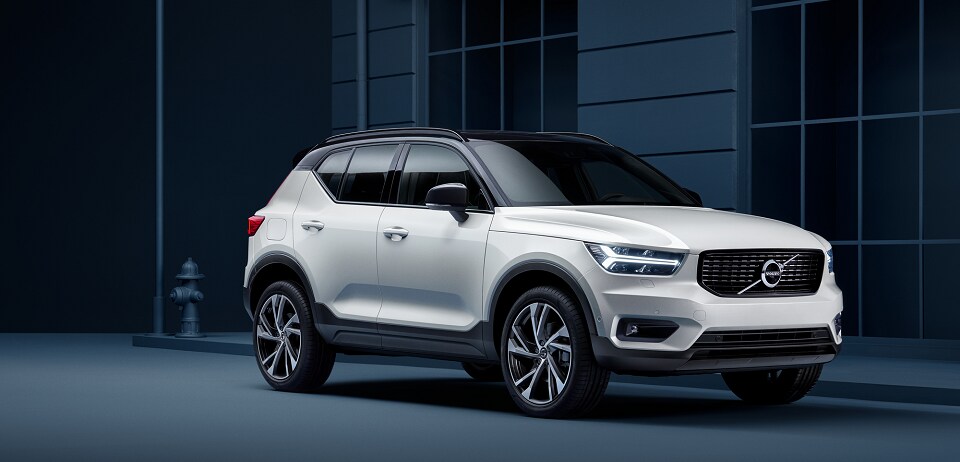 Volvo XC40: A Noteworthy SUV
Volvo XC40 is a remarkable vehicle, to say the least. This popular compact SUV seems to appeal to a wide array of people who come from different backgrounds in Hasbrouck Heights, NJ. The XC40 exhibits unique beauty as well as sophistication. SUV enthusiasts can choose from three trims, including the Inscription, R-Design, and Momentum. Each trim has its own personality and style. From its advanced technologies to its exceptional amounts of cargo space, the XC40 has it all.
New, Volvo XC40 Luxury SUVs at Kundert Volvo Cars of Hasbrouck Heights Near Newark, NJ
The 2022 Volvo XC40 comes with a gorgeous Scandinavian design from the inside-out. This compact SUV has a short frame, but it possesses sharp body lines. In addition to that, the vehicle's contours are bold and can be seen from most angles. Of course, Volvo has retained the asymmetrical LEDs at the rear-end as well as the "Thor Hammer" headlamps at the front. Volvo has introduced new front seats that were specifically designed for this SUV. Brushed-metal accents and contrasting colors can be seen in the cabin, which seats up to five people.
Kundert Volvo Cars of Hasbrouck Heights announces recent delivery of new, Volvo XC40 luxury SUVs.
When such announcements are made, it's with a commitment to the local Ridgefield Park area. In essence, as a Volvo dealership, Kundert Volvo Cars of Hasbrouck Heights has been tasked with sharing the excellence of Volvo amongst all aspects -- safety especially.
Volvo XC40 - The Surrounding Details
Every resurgent Volvo production year stamps innovations and updates onto an already proven line-up. And so it goes with Volvo XC40.
Known for detail at all levels, Volvo XC40 comes to the greater Hackensack area trimmed with goodies. From compact lines and easy maneuverability to all-wheel drive and interiors luxurious, Volvo XC40 remains popular with discerning taste.
In this, let's explore those assets incorporating Volvo XC40 luxury SUV trims at Kundert Volvo Cars of Hasbrouck Heights.
Volvo XC40 Momentum
Volvo XC40 Momentum is the premium level trim, though never sparing accoutrements. Shared driver's support consists of lane-keeping assistance, 12-inch instrument panel and an exterior camera assortment providing a 360-degree view of things surrounding.
As well, exterior elements feature the following:
Front grille is framed in chrome while displaying a black insert.
Door mirror covers are color coordinated with body color.
Five-spoked, 18-inch silver alloy wheels are stylish for evenings out in Hawthorne.
Roof rails are decked out with bright aluminum.
Hidden tailpipes round things out, exterior wise.
Volvo XC40 R-Design
The interior of Volvo XC40 R-Design is something to savor. While all Volvo XC40 trims deliver a comfortable interior, R-Design lends cutting edge aluminum décor and leathered-seating surfaces. A sport steering wheel comes tailored for an all-encompassing, dynamic and stylish presentation.
Considering power, the following details are to be noted:
Standard is the 2L, four-cylinder engine coupled to front-wheel drive.
Acceleration from stillness to 60 mph is achieved in 8.1-seconds.
Highway fuel consumption is rated to 32 mpg.
The available T5 powertrain is matched to all-wheel drive with acceleration pushed from 0 to 60 mph is 6-seconds.
Hill descent control lends confidence when winding your way down from North Jersey vistas.
Volvo XC40 Inscription
As the exclusive and refined Volvo XC40 trim, Inscription offers sophistication. This readily apparent within an interior featuring Orrefors® crystal adorning gear lever and a glossy black tunnel console. Ambient lighting creates an interior soothing and cozy when traveling the Northeast Corridor. Tread plates upon the door jamb are aluminum.
Technology has its home within Volvo XC40 Inscription given the following features:
Controls for the high-performance audio layout are mounted to the steering wheel for easy access.
Smartphone integration is seamless along with Bluetooth® connectivity.
Wireless device charging removes clutter from the cockpit.
The 9-inch, centralized touchscreen houses your smartphone applications, while Sensus Navigation delivers intuitive guidance upon the same display.
Selection of drive modes allows for the instant adaption of powertrain per driving preferences and conditions.
Volvo XC40 Special Offers at Kundert Volvo Cars of Hasbrouck Heights
At any given time, finance offers and lease deals may accompany Volvo XC40 luxury SUVs featured at Kundert Volvo Cars of Hasbrouck Heights. And while the parameters may differ between incentives, the following elements often entice Volvo XC40 acquisition at a savings:
Low APR (Annual Percentage Rate) may be applied over a certain period of time.
Reduced down payments might be in the offing.
Complimentary Volvo Genuine Service could be extended for maintenance visits.
Volvo Lease-End options are the envy of the industry outside Hackensack.
Kundert Volvo Cars of Hasbrouck Heights - Fully Stocked With New, Volvo XC40 Luxury SUVs
Visit our local Hasbrouck Heights area dealership today for test drives of each Volvo XC40 trim.


Technology Features
The XC40 doesn't fall short, especially when it comes to technological features. Most of the SUV's controls are in arm's length of the driver for convenience purposes. Connectivity is the way to go in the 21st century, and the XC40 utilizes Sensus innovation to pair devices to the system. There's a nine-inch touchscreen display that can be used for accessing in-car apps. The built-in navigation system can be accessed from this particular screen as well.
The 12.3-inch digital-driver display is useful as it displays vehicle-related information, such as temperature, mileage, and fuel. You can also view incoming phone calls from this screen. QI wireless charging is also available, and your passengers won't have to deal with cords or cables. You can integrate your smartphone into your XC4o with Apple CarPlay and Android Auto.
Safety
The new Volvo XC40 utilizes Volvo's City Safe technology. Advanced sensors can detect large road obstructions as well as large objects. If pedestrians, animals or vehicles are too close, then the driver will be alerted. This SUV is made from high-strength steel. Brake support and other safety features like Driver Alert Control, Run Off-Road Mitigation, and side-impact protection are built-in to keep you secure.
See how the Volvo XC40 compares to other SUV
Learn More and Test Drive an XC40 at Kundert Volvo Hasbrouck Heights
When you're ready, we invite you to make the short drive down to Kundert Volvo Hasbrouck Heights and you can compare other Volvo SUVs to the XC40. We look forward to helping you today!